If the weather is favorable, you won't have enough free time to see and visit all the available beauties of the surrounding landscape.
Swimming in a natural swimming area and in the pool at the Bellevue hotel
Cycling tours
Hiking trails along the routes: Sun Valley along the Chřibský stream, further to the crossroads at Studenec (736 meters above sea level) through Pavlínin's Valley, which is a natural reserve.
Educational trail leading from Mariina skála to Rudolfův kámen – Ostroh, along the Czech road to Vysoká Lípa.
Remains of the rock castle Šaunštejn – Tokáň.
Dolský Mill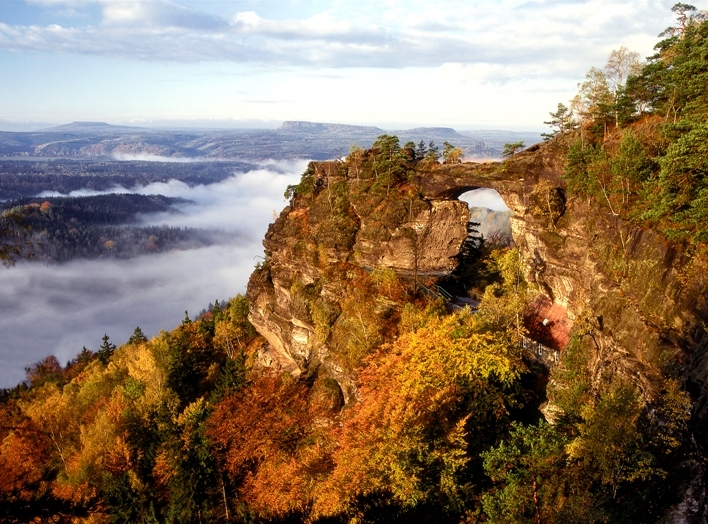 Pravčická Gate is a popular tourist attraction visited by thousands of tourists every year. The surroundings of Pravčická Gate offer many hiking trails and excursions that allow visitors to explore the beauty of the Czech landscape.
The gate has appeared in numerous films and literature, such as in Narnia, the legend of Krakonoš, and the adventures of Indiana Jones. In 2009, Pravčická Gate was chosen as one of the 7 Wonders of the Czech Republic.
Pravčická Gate is accessible via hiking paths and can be seen from various angles. So, if you are planning to visit Czech Switzerland, be sure not to miss this beautiful natural monument.
This viewpoint offers visitors a magnificent view of the surrounding landscape and rock formations, such as sandstone towers.
The ascent to Brand Viewpoint is not challenging and follows well-marked hiking trails. The view from the viewpoint is unforgettable and provides beautiful vistas of the Kamenice River, as well as the surrounding forests and mountains.
A trip to Brand Viewpoint is particularly popular in the summer when you can cool off in the nearby streams and enjoy a picnic on the green meadows. In winter, you can look forward to romantic walks in the snowy countryside.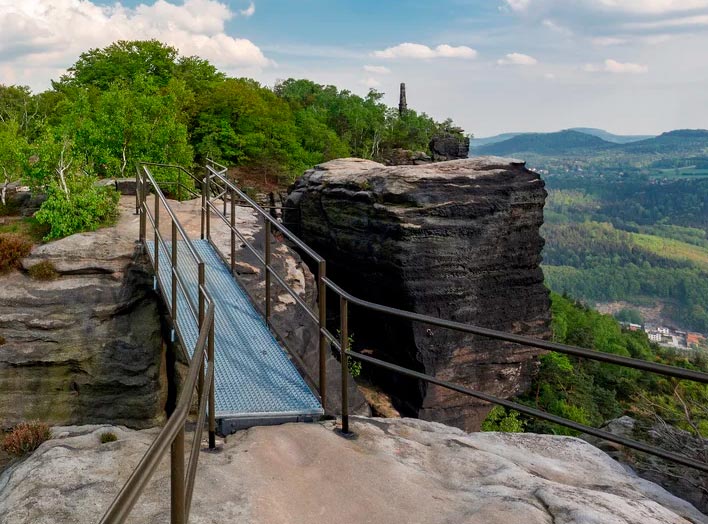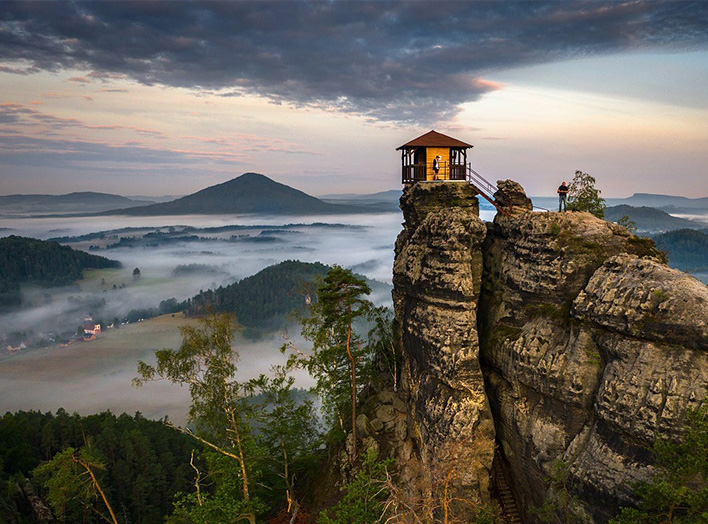 Jetřichovice viewpoints are a great tourist attraction that offers a stunning view of the surrounding landscapes and the rock formations that are characteristic of this area.
Some of the most well-known Jetřichovice viewpoints include Vilemínina wall, Rudolfův stone, and Mariina rock. All of these viewpoints are easily accessible via marked hiking trails and are popular spots for tourists.
The ascent to Jetřichovice viewpoints is not demanding and is suitable for the whole family.
Dolský Mill is a historical landmark located in the heart of the Czech Switzerland National Park. This mill is very popular among tourists due to its beautiful location in the picturesque nature.
The mill was built in the 16th century and served for grinding grain and other raw materials. Today, Dolský Mill has been transformed into a tourist attraction that offers visitors many interesting experiences.
Dolský Mill is also the starting point for many hiking and cycling trails. Visitors can embark on beautiful walks in the surrounding area and enjoy stunning views of rivers, mountains, and forests.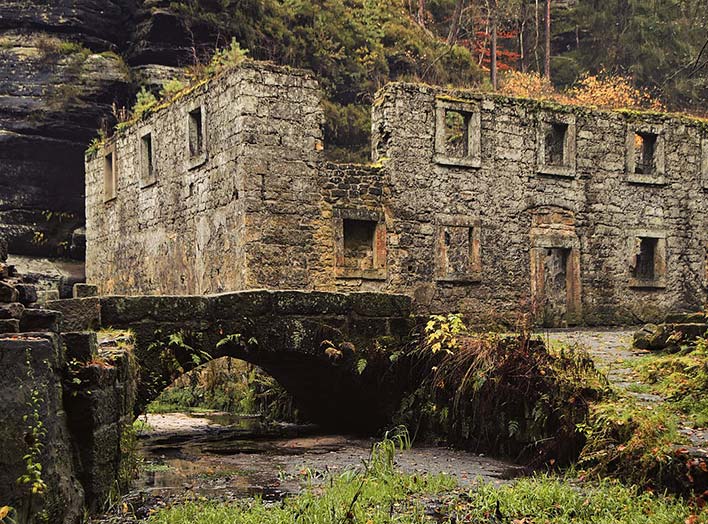 Pavlína's Valley
Elbe Cycle Path
Painter's Trail
Kögler's Trail
Upper Flotation
Dwarf Caves
Silent (Edmund's) and Wild Gorge
Děčín Castle
Dolský Mill on the Kamenice River
Little Pravčická Gate
Šaunštejn Castle
Falkenstein
Sunny Valley
Brtník Icefalls
Cave of Ice Fairies
Kyjov Valley
Silver Walls
Kamenická Stráň
Zadní Doubice
Tiské Walls
Panská skála
Sandstone Walls above Pravčický důl
Belvedere
Růžový vrch
Křížový vrch near Rynartice
Janská Adrenaline Park